Rho 351R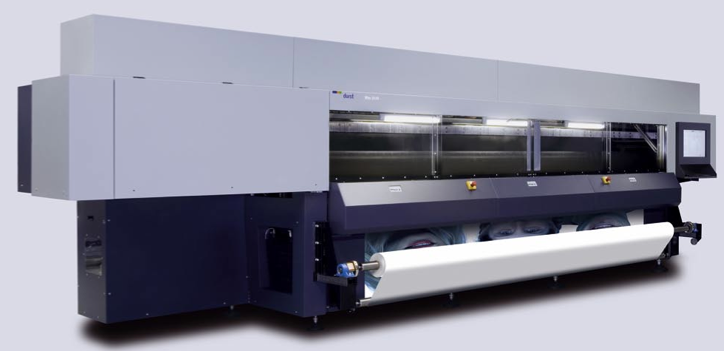 The Rho 351R, a further development of the Rho 350R, is a high-speed UV inkjet printer for roll media, including: paper, fabrics, vinyl and PVC films, up to a width of 3500 mm (11.6 ft). The high print quality, featuring fine text (as small as 4 point) and solid areas of colour with high colour gamut and density, is achieved using Durst Quadro Array print head technology, innovative European mecha- nical engineering and Durst`s proprietary image software. The Rho 351R uses Durst Rho Roll Ink, a virtually odourless, high pigmentation ink, which has been specially developed for excellent flexibility, adhesion and colour stability on flexible material. It is ideal for printing on such material as soft banners (fabrics) and backlit textiles, tents and awnings, truck side curtains, POP/POS signs, large format posters, building wrapping, wall paper and PVC films for backlighting, etc...
Rho 351R key features
---
The high colour density of 2.25 D and the ability to underprint white or use it as a spot colour, enables both the printing of coloured media and the production of photo-quality backlits. The printing of backlits is automated by the special backlit function which applies double the ink coverage in one printing operation. The high productivity, up to 170 m2/hr on mesh, for example, is further optimised by the ability to print two 1600 mm wide, different diameter rolls simultane- ously, thus utilising the full width of the equipment. Productivity is enhanced still further by the stepless skip-white func- tion in an XY direction. The printing operation is enhanced by an integrated manual cutting device and the user friendly, industry standard LINUX operating software. The built-in security system allows for unattended printing of large rolls and double sided printing is made possible thanks to the laser driven registration.
Advantages
Addressable resolution 400 x 400, 400 x 600 dpi at your choice, in 6 passes according to the needs of quality and productivity
CMYK Rho Roll Inks and 2 spot colours (white over/underprint, functional varnish, orange, green and ocean blue. UV curable inks allows for immediate use of printed material
Low ink consumption achieved by high pigmented inks providing low ink cost/m2
Environmentally friendly ("green technology"), no VOC`s
Easy and fast media change with max. 70 cm media waste/change
Virtually odourless, high density inks with high flexibility, no wicking on fabrics, and high colour retention from the use of pigments with an 8 classification on the Blue Wool Scale
Unattended printing of big rolls is provided due to the built in security system (GSM modul with error warning via mobile phone - optional)
Simultaneous printing on 2 rolls (each 1600 mm/excluded fabrics) even of different diameter
User-friendly operating software with management functions (ink usage/job, total ink consumption, print-time/job etc) and interface to external order check software
Double sided printing with optical-based registration (single rolls)
Highly productive workflow from simultaneous ripping/transfer and printing of files through additional RIP workstation
Integrated manual cutting device
Industrial standard LINUX operating software
---
Technology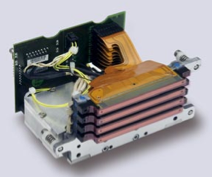 The Rho 351R uses Durst Quadro Array print head technology with 512 nozzles compactly arranged in an Array and con- tinuous flowing, temperature controlled ink. Coupled with Durst`s proprietary firing impulse software, which controls the precise setting of ink drops at high frequency, ensure the printing of fine text (as small as 4 point) even on polyester fabrics without wicking, as well as strong solid colours and step-free color shades. Brush-stretch rollers and a tension regu- lation device transport even thin fabrics precisely and crease-free through the printing equipment. The UV lamps, with dichroitic coated reflectors, are adjustable in steps and cure the UV inks even on temperature-sensitive media.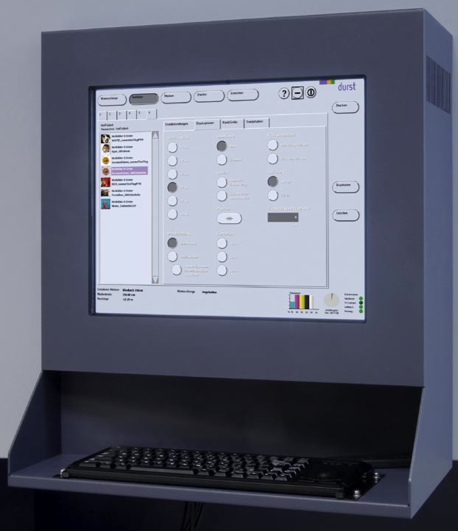 The touch-screen user software is based on printing experience and is driven by industrial standard LINUX operation software and ensures reliable, 24/7 production.
The software functions include:
Media channel, archiving for the selected tension for each media the selected, UV lamp step, pass, tension selection, vacuum strengths, and "tuning option" to compensate temperature related media characteristics
Skip white function (passes over unprinted areas in XY direction)
Queue function with selection criteria
Backlit function in order to print double ink layer in one printing process
Interface to external order management
Efficient workflow with color management based on external Caldera RIP Server
Automated workflow using RIP-Job- tickets and hot folders with saved speed-passes, color management and simultaneous administration of queue and hot folders.
---
Rho-Roll Ink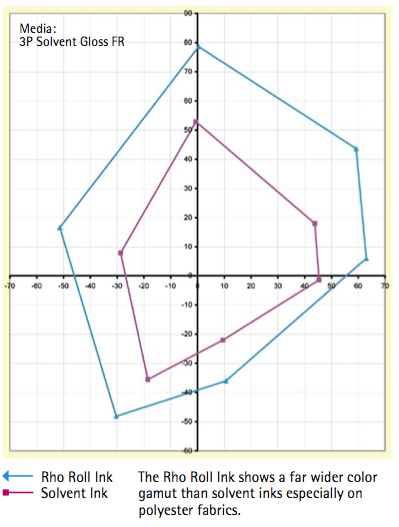 Durst has developed for the Rho 351R a specific, virtually odourless UV curing acrylic ink which guarantees quick curing, high adhesion, even on uncoated surfaces and high flexibility. The high pigmenta- tion of the ink provided high colour density with wide colour gamut. The output is immediately usable after printing without any post-treatment. The high flexibility of the ink ensures that uncoated fabrics can be printed without wicking and UV pre-coated fabrics show no white breaks. Thanks to the properties of the Rho Roll inks flame-proof material retain their properties also after printing.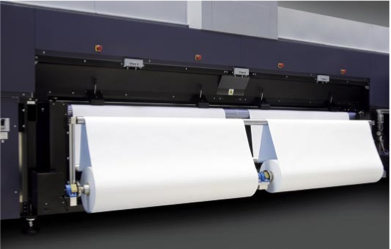 A special mechanical and electronic device (optional) allows the simultaneous printing on 2 rolls, each 1600 mm width, even of different diameter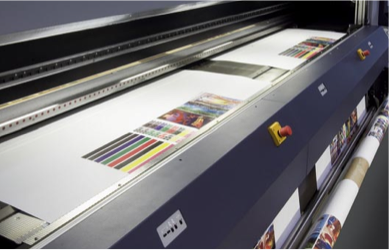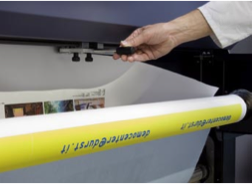 The integrated manual cutting device secures operation-friendly cross cutting
---
Technical Data
Dimensions:
Width: 7400 mm (24.27ft) Depth: 2720 mm (8,92.ft) Height: 2480 mm (8,13ft)

Weigth:
4400 kg (9700 lbs)

Front-end workstation Type:
HP Workstation XW 4400 with dual Intel XEON 3.4 GHz. processor, 2 GB RAM,

Hard discs:
1 x 73 GB SCSI-10000 RPM, 2 x 146 GB SCSI-15000 RPM,
Drive:
DVD ROM and CD-RW

Operation SW:
Redhat Enterprise LINUX WS EM 64 T

Monitor:
19" touch screen

RIP Processor:
RIP Workstation with Caldera Grand RIP, SW with integration (separate license) for cutter (Esko-MGE, Fotoba) and ICC- Profiling (Barbieri Spectrophotometer
– optional).
Speed passes
linear speed cm/min
qm/hr*
Rho 351R-8
Pass 1
45.5
85.5 m2
Pass 2
29
52.5 m2
Pass 3
19.25
36.5 m2
Pass 4
16.25
28.5 m2
Pass 5
13.6
23.2 m2
Pass 6
11.4
19.8 m2
Rho 351R-16
Pass 1
91
171 m2
Pass 2
58
105 m2
Pass 3
38.5
73 m2
Pass 4
32.5
57 m2
Pass 5
27.25
46.5 m2
Pass 6
22.75
39.5 m2
*calculated on 3500 mm media width at 400 dpi bi-directional printing; at 4oo x 600 dpi speed reduction approx. 30 %
Resolution:
400 x 400 dpi or 400 x 600 dpi addres- sable (apparent 800/1200)
Colours:
CMYK, optional 2 spot colours: white, varnish, selected spot colours Ink: Rho Roll Ink, pigments classified at Blue Wool scale 8
Ink supply:
through integrated 10 l. tanks and Durst pat. Cubitainer system is re-fillable during printing without any contact with ink. Corrugated Cubitainers with internal shrinking plastic containers are environ- mentally-friendly disposable
Media specifications: All flexible media, including:
Blue back paper, Coated and uncoated fabrics, (polyester, cotton, linen etc.) Canvas, coated and uncoated Vinyls, tarpaulin up to 980 gr/m2 Self-adhesive PVC

Max. width:
3500 mm

Max. thickness:
2 mm (depending on media)

Max. length:
limited only by roll length

Max. roll diameter:
450 mm outside diameter (17,7 in.) 3500 mm width, resp. 2 x 1600 mm, max. weight: 300 kg (661 lb).

Ambient conditions: Max. sea level of installation:
2400 m above sea level (8000 ft)

Max. ambient temperature:
+15 °C bis +30 °C (59 °F to 86 °F)

Max. humidity:
20-80 %, not condensing
Raj kumar Poddar - Kraj66650@gmail.com

September 20, 2023

Buy and Sell

Noritsu Qss green 2 lab prise & cortisone please send me

Raj kumar Poddar - Kraj66650@gmail.com

September 20, 2023

Buy and Sell

Wedding album lab parpose

Antonio verdejo - averlu73@gmail.com

April 22, 2023

Technical Support: Agfa, Konica, Kis, Doli

Hola necesito software de la kis 1710 y discos de la aplicación gracias.
Nous achetons, vendons, rénover et entretenir les différentes marques de tel: